synthetic esoterica
Congress Poised To Pass Sweeping Law Covering FDA And NIH
NPR   1700 hours GMT-5 11/29/16
Legislation to bolster medical research and revamp the way new drugs and medical devices are approved is on the fast track through a Congress that has had little success to celebrate this year.
source of featured image: 
http://www.theopenscroll.com/pharmakeia.htm 
http://www.ifpma.org/resource-centre/research-based-pharmaceutical-industry-launches-do-you-mind-campaign/ 
https://www.youtube.com/watch?v=74MI_tnuzWw
[ Ed.: great graphics here, plus a lot of info]
http://www.unique-design.net/library/drugs.html 
CIA MKULTRA: drugs to ruin the nation
by Jon Rappoport
November 29, 2016
Drugs to transform individuals…and even, by implication, society.
Drug research going far beyond the usual brief descriptions of MKULTRA.
The intention is there, in the record:
A CIA document was included in the transcript of the 1977 US Senate Hearings on MKULTRA, the CIA's mind-control program.
The document is found in Appendix C, starting on page 166. It's simply labeled "Draft," dated 5 May 1955 (note: scroll down to #123-125 in the document).
It states: "A portion of the Research and Development Program of [CIA's] TSS/Chemical Division is devoted to the discovery of the following materials and methods:"
What followed was a list of hoped-for drugs and their uses.
First, a bit of background: MKULTRA did not end in 1962, as advertised. It was shifted over to the Agency's Office of Research and Development.
John Marks is the author of the groundbreaking book, Search for the Manchurian Candidate, which exposed MKULTRA. Marks told me a CIA representative informed him that the continuation of MKULTRA, after 1962, was carried out with a greater degree of secrecy, and he, Marks, would never see a scrap of paper about it.
I'm printing below, the list of the 1955 intentions of the CIA regarding their own drug research. The range of those intentions is stunning.
Some of my comments gleaned from studying the list:
The CIA wanted to find substances which would "promote illogical thinking and impulsiveness." Serious consideration should be given to the idea that psychiatric medications, food additives, herbicides, and industrial chemicals (like fluorides) would eventually satisfy that requirement.
The CIA wanted to find chemicals that "would produce the signs and symptoms of recognized diseases in a reversible way." This suggests many possibilities—among them the use of drugs to fabricate diseases and thereby give the false impression of germ-caused epidemics.
The CIA wanted to find drugs that would "produce amnesia." Ideal for discrediting whistleblowers, dissidents, certain political candidates, and other investigators. (Scopolamine, for example.)
The CIA wanted to discover drugs which would produce "paralysis of the legs, acute anemia, etc." A way to make people decline in health as if from diseases.
The CIA wanted to develop drugs that would "alter personality structure" and thus induce a person's dependence on another person. How about dependence in general? For instance, dependence on institutions, governments?
The CIA wanted to discover chemicals that would "lower the ambition and general working efficiency of men." Sounds like a general description of the devolution of society.
As you read the list yourself, you'll see more implications/possibilities.
Here, from 1955, are the types of drugs the MKULTRA men at the CIA were looking for. The following statements are direct CIA quotes:
A portion of the Research and Development Program of TSS/Chemical Division is devoted to the discovery of the following materials and methods:
1. Substances which will promote illogical thinking and impulsiveness to the point where the recipient would be discredited in public.
2. Substances which increase the efficiency of mentation and perception.
3. Materials which will prevent or counteract the intoxicating effect of alcohol.
4. Materials which will promote the intoxicating effect of alcohol.
5. Materials which will produce the signs and symptoms of recognized diseases in a reversible way so that they may be used for malingering, etc.
6. Materials which will render the induction of hypnosis easier or otherwise enhance its usefulness.
7. Substances which will enhance the ability of individuals to withstand privation, torture and coercion during interrogation and so-called "brain-washing".
8. Materials and physical methods which will produce amnesia for events preceding and during their use.
9. Physical methods of producing shock and confusion over extended periods of time and capable of surreptitious use.
10. Substances which produce physical disablement such as paralysis of the legs, acute anemia, etc.
11. Substances which will produce "pure" euphoria with no subsequent let-down.
12. Substances which alter personality structure in such a way that the tendency of the recipient to become dependent upon another person is enhanced.
13. A material which will cause mental confusion of such a type that the individual under its influence will find it difficult to maintain a fabrication under questioning.
14. Substances which will lower the ambition and general working efficiency of men when administered in undetectable amounts.
15. Substances which promote weakness or distortion of the eyesight or hearing faculties, preferably without permanent effects.
16. A knockout pill which can surreptitiously be administered in drinks, food, cigarettes, as an aerosol, etc., which will be safe to use, provide a maximum of amnesia, and be suitable for use by agent types on an ad hoc basis.
17. A material which can be surreptitiously administered by the above routes and which in very small amounts will make it impossible for a man to perform any physical activity whatsoever.
At the end of this 1955 CIA document, the author [unnamed] makes these remarks: "In practice, it has been possible to use outside cleared contractors for the preliminary phases of this [research] work. However, that part which involves human testing at effective dose levels presents security problems which cannot be handled by the ordinary contactors.
"The proposed [human testing] facility [deletion] offers a unique opportunity for the secure handling of such clinical testing in addition to the many advantages outlined in the project proposal. The security problems mentioned above are eliminated by the fact that the responsibility for the testing will rest completely upon the physician and the hospital. [one line deleted] will allow [CIA] TSS/CD personnel to supervise the work very closely to make sure that all tests are conducted according to the recognized practices and embody adequate safeguards."
In other words, this was to be ultra-secret. No outside contractors at universities for the core of the experiments, which by the way could be carried forward for decades.
A secret in-house facility.
Over the years, more facilities could be created.
If you examine the full range of psychiatric drugs developed since 1955, you'll see that a number of them fit the CIA's agenda. Speed-type chemicals to addle the brain over the long term, to treat so-called ADHD. Anti-psychotic drugs, AKA "major tranquilizers," to render patients more and more dependent on others (and government) as they sink into profound disability and incur motor brain damage. And of course, the SSRI antidepressants, like Prozac and Paxil and Zoloft, which produce extreme and debilitating highs and lows—and also push people over the edge into committing violence.
These drugs drag the whole society down into lower and lower levels of consciousness and action.
If that's the goal of a very powerful and clandestine government agency…it's succeeding.
Jon Rappoport
https://jonrappoport.wordpress.com/2016/11/29/cia-mkultra-drugs-to-take-down-the-nation/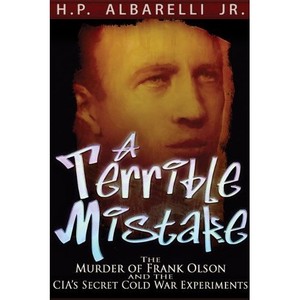 http://i.ebayimg.com/00/s/NTAwWDUwMA==/z/JfoAAOSw3xJVYFI9/$_35.JPG
In a long footnote to Book Two, Chapter Four of A Terrible Mistake, H. P. Albarelli, Trine-Day, 2009, which is found on pages 792-793, Albarelli notes:
"Readers familiar with Freemasonry will recognize that many of these esoteric subjects are related to that secret society. Some readers may also know that many of the CIA's subcontractors under MKUKTRA and ARTICHOKE, as well as other programs, throughout the 1950s and 1960s, were Masons, some of the 33rd degree. For decades there have been rampant speculations about Freemasonry and MKULTRA. Nowhere is this best witnessed them on the Internet. Some of the speculation is been fueled by the documented activities of the Scottish Rite of Freemasonry as related to behavior modification programs. The possible connections are intriguing but not a primary subject for this book. When this book was close to completion, in yet another another of numerous coincidences that occurred over the course of his writing, author Peter Levenda had just completed a book on Freemasons and America. I asked Peter about the CIA's pursuits of such matters, and he said: "CIA's interest in matters esoteric was prompted by several concerns. In the 1st place, esoteric organizations–secret societies, cults, etc.–run parallel to intelligence agencies in terms of the culture of secrecy and deception. A secret society operates below the radar of social and governmental oversight and control; their membership lists are secret; their members use pseudonyms; and they believe that they have secret power to control the outcome of world events. Members of secret societies are often intelligent, are familiar with foreign languages and cultures, and travel incognito across national borders. Thus, purely as a security matter, CIA would be interested in those groups and would be tempted to infiltrate them, or otherwise keep an eye on them. The SS and Gestapo did the same in Germany in the 1930s and 1940s, when it was understood that secret societies–like the Masons, but also the Golden Dawn and other groups–provided a covert network of potential anti-government operatives that had to be suppressed. In the 2nd place, the very arcane pursuits of the secret societies hinted at avenues of knowledge, power and control there were not available to the government. CIA would have wanted to know is how cults were so successful in "brainwashing" their members, convincing them of the truth of the most unbelievable ideas and concepts. Was the Korean War era method of brainwashing captured American soldiers equivalent to the approach used by cults and occult groups on their own members? What was the effect of these methods on memory, perception, volition? Did the cults know something about the functioning of the human brain that the government scientist did not?
Thirdly, the interest of CIA in such matters paralleled that of the Nazis and their SS-Ahneherbe.  Himmler's desire to find ancient artifacts–including the holy Grail, the Ark of the covenant, etc.–was motivated not by a sincere religious sentiment but by the naked pursuit of the power they represent. This is an astonishing development, for it indicates that somewhere within the CIA's labyrinthine bureaucracy there were (and are) individuals who were able to get funding to search the world for these artifacts. For instance, Robert K Temple in the new preface to his much acclaimed The Sirius Mystery tells of how CIA approached him as he was researching the religion of the African Dogon tribe. What possible reason could CIA have for keeping tabs on such an arcane, academic study involving ancient astronomy? If we realize that such practices as remote viewing, hallucinogenic drug research, and the investigation of cults, ESP, if hypnosis and other factors were taking place all at the same time within America's intelligence establishment–involving not only the CIA but also the Army and the Navy–then we are forced to consider that CIA had a reason for all of this that transcends mere curiosity. It was the era of the weaponization of esoterica, something that had not been seen in the Western world since the Middle Ages."
***
"Major Abramson, assisted by 1st Lt. Frank Olson and several other Edgewood scientists, began his search for the proper aerosol using a solution of sodium hypochlorite. Also assisting was in Dr. Vernon Bryson of the Long Island Biological Association. Still operational today, the Association is a private research group founded by 1924 by number of wealthy entrepreneurs, including J.P. Morgan and William K Vanderbilt. The group has organizational ties to the controversial eugenics research conducted by Charles Davenport's Cold Spring Harbor Department of Eugenics. During World War II, Vannevar Bush, head of the Office of Scientific Research and Development, strongly supported the association's work."  [Page 40]
"In response [to Pres. Roosevelt's increasing concern over mounting intelligence reports about the Axis powers stockpiling poison gas], the War Department created a War Research Service (WRS), and installed George Wilhelm Merck as its director. Merck was a natural for the job, as he was already a high-ranking consultant of the war Department on biological warfare. He was also head of Merck and Company, one of the oldest and largest pharmaceutical companies in the world. The firm had its beginnings in the late 1600s in Germany as the E.  Merck chemical factory. In 1891, George Merck, George Wilhelm's father, left Germany to establish Merck and Company in New York City. His son, George Wilhelm Merck, born in West Orange, New Jersey and a Harvard graduate, assumed control had assumed control of the company in 1925. The younger Merck dynamically guided the company to become the largest full-line producer and distributor of pharmaceuticals in the world. Merck and Company has since been responsible for countless innovations in the drug industry, including many in the controversial areas of enthnogenic products and shamanic inebriants.
In 1914, Merck's German operation was the first company worldwide to synthesize and patent methylene dioxymethamphetamine, or MDMA. As readers shall see, MDMA, a semisynthetic psychoactive drug properly known today as Ecstasy, was tested in the early 1950s under the codename EA–1475 at the Army's Edgewood Arsenal…." [Page 42]
"George W Merck, however, was no neophyte in biological warfare. Previously, he had served as a high-ranking consultant to a top-secret group called the WBC committee. The WBC committee had been formed in the fall of 1941, two months before the attack on Pearl Harbor, when Secretary of War Henry L Stimson asked Frank B Jewett [whose dad was a Mason and is a cousin from the other branch ten generations removed], president of the National Academy of Sciences, to appoint a working group to make a complete survey of the biological warfare capacities of other nations. Wrote Stimson to Jewett, "because of the danger that might confront this country from potential enemies employing what may be broadly described as biological weapons, it seems advisable that investigations be initiated to survey the present situation and the future possibilities."
Julie turned to his good friend Dr. Edwin B Fred at the University of Wisconsin to identify who would be best for the group. Fred picked Merck; Dr. Ira Baldwin; Thomas Bourne Turner, chair of the department bacteriology at Johns Hopkins University; Thomas Rivers, director of the Rockefeller Hospital in New York; William Hay Taliaferro at the University of Chicago; and Louis O Kunkel of the Rockefeller Institute. Merck chaired the group, which was named the War Bureau of Consultants, or, as it was commonly referred to, the WBC committee. Acting as military liaison to the committee were major Arvo Thompson and Lieut. Col. James A. Defendorf from Edgewood Arsenal.
Starkly illustrating the enemy dangers that preoccupied the Secretary of War were series of incidents that had occurred 2 years earlier in New York. The 1st incident occurred on February 3, 1939. Dr. Ryoichi Naito, an assistant to Dr. Shiro Ishii–head of Japan's secret germ warfare program–visited the Manhattan offices of the Rockefeller Institute for Medical Research and asked for samples of the yellow fever virus strain stored there for use in vaccinations. The Institute refused the request, but Dr. Knight told repeatedly returned, harassing Rockefeller Institute scientists with questions about the virus.
During one of Naito's uninvited visits, scientists were stunned to hear him brag that he had recently spent 18 months at the Robert Koch Institute in Berlin. At the time, the Koch Institute, a renowned research facility, was a hub for Nazi biological research." [Page 43]
****
"On April 10, 1953, just 3 days before he approved MK-ULTRA, Allen Dulles made a major policy speech in Hot Springs, Virginia to the National Alumni Conference of Princeton University …  Dulles focused exclusively on what he termed "Brain Warfare"," or the "battle for men's minds" provoked by "the international tensions" called the Cold War. Said Dulles… :
" The human mind is the most delicate of all instruments. It is so finely adjusted, so susceptible to the impact of outside influences, that it is proving a valuable tool in the hands of the sinister men.  The Soviets are now using brain perversion techniques as one of their main weapons in prosecuting the Cold War. Some of these techniques are so subtle and so a bar and to our way of life that we have recoiled from facing up to them."
Dulles went on and politically recited a long litany of evil Soviet practices, including the domination of huge landmasses and populations, using "powerful jamming equipment" to "eliminate the reception of foreign radio messages,"  a "government approved" media, persecution of and mass purges of racial minority groups, religious intolerance, and a concentrated program of "brain-conditioning" directed at turning human beings "into humble confessors of crimes they never committed or [to] make them the mouthpiece for Soviet propaganda." Dulles seemed most concerned with "brain-conditioning" and Soviet efforts to develop "new techniques" that employed Russian "science and ingenuity" in the "study of mental reactions and in the nefarious art of breaking down the human mind."
Most alarming, Bellows declared, was that the Communists were now applying brainwashing techniques "to American prisoners in Korea." It "was not beyond the range of possibility," he warned, "that considerable numbers of our own boys there might be so indoctrinated as to be induced, temporarily at least, to renounce country and family." The United States would do all possible to combat communist oppression, Dulles said, but it was "handicapped" in doing so because there were "few survivors" of Soviet brainwashing, and "we have no human guinea pigs ourselves on which to try out these extraordinary techniques."
One can only imagine how uncomfortable it might have been from Dulles to be questioned about having "no guinea pigs" in light of the fact that CIA programs he had approved 2 months earlier were aggressively experimenting on human beings with an array of mind control and behavior modification techniques far surpassing anything the Soviets were accused of." [Pages 136-137]
****
"By early summer 1951, Project BLUEBIRD administrators had further refined their interrogation research to focus exclusively on "special interrogation and hypnotism techniques" applied to "war and specific agency problems." The problems were listed with startling specificity:
Can we 'condition', by posthypnotic suggestion, Agency employees (or persons of interest to this Agency) to prevent them from giving information to any unauthorized source or for committing any act on behalf of a foreign or domestic enemy?
Can we, in the matter of an hour, 2 hours, one day, etc., induce a hypnotized condition in the unwilling subject to such an extent that he will perform an act for our benefit?
Could we seize a subject  and in the space of an hour to by  posthypnotic control have him crash an airplane, record train, etc.?
Can we [long and short range] through posthypnotic control induces a subject to commit violence against another individual, or induces subject to murder another individual or group of individuals?
Can we through posthypnotic control create a condition whereby a subject would forget any such induced act after the subject is brought out of his "conditioned" state? [Pages 223-224, A Terrible Mistake, H. P. Albarelli, Trine-Day, 2009.]
[Ed.: Who, in the context of the year 2016, post-Patriot Act, post-NDAA, four years after the publication of the Presidential Memorandum on Insider Threat Policy ( http://www.whitehouse.gov/the-press-office/2012/11/21/presidential-memorandum-national-insider-threat-policy-and-minimum-stand ) in light of extensive evidence for foreign infiltration or or interference with domestic political control and in view of alleged treason/intraparty squabble/military insurrection, controls the definition of foreign or domestic enemy?]
****
"Surviving minutes from nearly a dozen ARTICHOKE  committee meetings so that the committees work mostly focused on ARTICHOKE  team recruitment and project enhancement, and that the committee functioned in a routine in congenial fashion. However, not everything was always peachy keen with the group. A handwritten note by one CIA official on the committee reveals what might have been strong dissent among committee members. That dissent could just as easily have been expressed again some of today's "war on terror" practices. The note reads:
"What in God's name are we proposing here? Does it not strike anyone but a few that these projects may be immoral and unethical, and that they may fly in the face of international laws? What really are we attempting to accomplish? Where does respect for life and human dignity come into play?"
The unidentified rider was reacting to a proposal concerning "the possibilities of inducing subjects to go against their will and personal beliefs and commits acts such as murder." Another note, scribbled by someone with the initials "JG" on a proposal drafted months later, reads: "Where does this stuff end? The sheer madness of some of these ideas is getting difficult to swallow."
ARTICHOKE conference meetings regularly delved into consideration of immoral practices. At one of its earlier meetings, in December 1951, the six-member group discussed at length how to use a "standard electric shock machine" to produce "normal shock effects" including convulsions and eventually amnesia, "following a series of shock treatments." An unnamed college professor, who was also identified as a psychiatrist, appeared before the conference and explained that through the use of Reiter electric-shock machines he "could guarantee amnesia for certain periods of time and particularly he could guarantee amnesia from any knowledge of use of the convulsive shock." According to conference minutes, the professor explained that electric shock machines set up producing "lower current type of shock" would have the "effective making a man talk." [Pages 230-231]
****
"… It is suspected that Goodenow may have consulted with the CIA and Mulholland to help devise a special pinprick type device to be used to covertly induced diseases in targeted individuals." [Page 258]
http://www.campx.ca/CampXCanadianEdition.jpg
"White was sent to Camp X not only to be trained, but also to become a trainer himself, which he did when he was assigned in 1942 as branch chief of schools and training for the OSS counterespionage division in Washington DC. Subsequently, he became deputy chief of counterespionage, or X2, as it was commonly called. In his trainer role, White rotated among several secret sites, including area B3, a 9,000 acre center hidden away in Maryland's Catoctin Mountain Park, a few miles from today's Camp David presidential retreat. Another secret training site was known as area A2, a 5,000 acre wooded site near Quantico Virginia. "The Farm," located 40 miles from Washington DC, was a 3rd site. White's own training continued, as well. In May 1942, together with Garland Williams and Philip Strong, White took a brief break from his trainers position to attend a six-week advance commando and parachute school in Virginia.
Among White' first OSS students were several novice officers who would later become top CIA officials: Richard Helms, Frank Wisner Jr, James Jesus Angleton, Lyman B Kirkpatrick Junior, Thomas Karmessines, and William Colby. Several other notable students were anthropologists Carleton S Coon and Gregory Bateson, psychologist Dr. James A. Hamilton, future Federal Narcotics agent Howard Chappell, and Alfred M. Hubbard, an elusive and fascinating figure who arrived at OSS's Area B fresh from a stint in prison. Hubbard, as readers already know, would later become "the Johnny Appleseed of LSD." Michael Burke, who would also become a CIA employee and then a high-profile executive who ran the New York Yankees in Madison Square Garden, was another of White's trainees in Maryland….."
****
" Dr. Henry Murray, OSS psychological warfare chief who later conducted secret CIA-funded experiments at Harvard in the 1950s, observed:
"The whole nature of the functions of OSS were particularly inviting to psychopathic characters; it involves sensation, intrigue, the idea being a mysterious man with secret knowledge."
It was not long before George White's training skills were demanded that other newer locations. The OSS training complex soon expanded to several other additional locations in Maryland, including one that bordered Edgewood Arsenal, and another in Garrett County, just a few miles away from Deep Creek Lake. There were others, including a converted estate in Fairfax Virginia, and a West Coast commando center in San Clemente, California. In addition, several urban centers or "finishing schools" were established in New York City at 630 Fifth Avenue and 55 W. 42nd St., with an adjunct branch on Long Island.  Other "finishing schools," were operated in San Francisco and in the Hollywood section of Los Angeles. These schools focus primarily on imparting the skills of "urban terrorism," "partisan recruitment," and counterintelligence techniques. Here it is interesting to note , the OSS's location at 635th Ave. was the international building and Rockefeller Center, which also served at that time is the headquarters of British intelligence in the United States.
Kermit Roosevelt, OSS chief historian, reveals in his declassified war report of the OSS, that all OSS training "stressed from the beginning the importance of maintaining cover." Students at all its schools "were forbidden to disclose their real identities and lived under assumed names. At the same time, they were instructed to attempt to pierce the cover of their fellow students." Roosevelt explains:
"Intensive interrogation exercises of various types were carried on in attempts to force the student to break is assumed identity. In each of these the student was made familiar with the various techniques of interrogation and the importance of the most minute detail was stressed. The entire atmosphere at all training establishments was designed to prepare the trainees psychologically for the fact that the life of an agent is a constant and continuing gamble with detection."
In the same report, Roosevelt explained the basic concept of "compartmentalization" in intelligence matters, which he dubbed the "principle of insulation," as well as the need for, and functions of, "safe houses."
In his position as OSS training chief, Col. White demonstrated a pronounced flair for innovation. He designed several challenging field exercises that required individual students to develop their own cover stories, secure "appropriate cover credentials," and then attempt to penetrate a highly secured industrial establishment in one of the 4 selected cities, Chicago, Baltimore, Pittsburgh, or Philadelphia. White's field exercises, in addition to providing training, served the added function of pointing up serious security weaknesses in the nation's defense plants." [Pages 399-400]
Fresh off the presses:
http://claritypress.com/sitebuilder/images/valentinecover-400×600.jpg
By the same author:
dissidentvoice.org/2015/09/creating-a-crime-how-the-cia-commandeered-the-dea/