combat
I am reading a book that I should have read in high school. It falls into line behind another book I should have read in high school, and a third one in which I am making slow progress. (I'm listening.) 
http://i.imgur.com/hhd158k.jpg
I went to a very good high school and had one very very good teacher for AP English who was an Army veteran and who introduced me to writing, literature, and World War One war poems in a way that no one else did.
My AP History teacher was a veteran of World War One (his arm was permanently damaged in battle and he wore an early prosthetic forearm in a sling, inert and dysfunctional, perhaps for me the next level in empathy after Farragut's Theorem).
Either one of these live human beings who taught me on a daily basis might have stood in for the fictional high school instructor of History and Moral Philosophy described in Starship Troopers.
The author described high school classes I wish were available to me, but weren't. The course in survival preparation described in Tunnel in the Sky is unlike anything offered even today by small companies of preppers and former soldiers; the final exam was its climax.
Heinlein's Starship Troopers is topically resurgent online today and has also spin off movies, role-playing games, and more.  But here today I'm focused on the book and the philosophies.
And the reason that I'm reading this book and looking at the phenomenon of its resurgence is simple: we're going to war.
And we have not yet begun to even glimpse the final exam for that course.
We've been at war for a long time. We are a warring nation.  We like war.  Many of our elite get rich through war.  They foster and incite violence, conflict and hatred regularly. There is a long tradition among the extremely wealthy of funding both sides of a war at the same time. They probably get some form of perverse enjoyment out of the sacrifices of humans to their fantasies of power. Henry Kissinger has a quote or two about these things. Mike Rivero has published an article on war and bankers. Today's alternative news will bring you forecasts of impending war with Russia (and perhaps China, or both).  Many people are aware of and concerned about the Soros-driven waves of Islamist refugees into Europe. The EU and NATO are described as the modern-day version of the Third Reich.
Others are concerned about waves of immigrants from various countries and cultures arriving via the US southern border. Imigration out of Asia into the Pacific Northwest has been forecast. War, weather and color revolutions have put a lot of peole on the march.
Civil war is forecast; the CONUS military exercises like Jade Helm have been widely discussed. Political change and degradation of rights enumerated under the Constitutiuon, itself widely degraded and no longer deemed worthy of protection by many, will be visible on the streets of the nation's Capitol as a new President is inaurgurated (or perhaps assassinated, if you read some people).
So an old piece of science fiction that isn't much younger than I am and that describes political and other virtues of military discipline and training comes into sharp focus for an individual concerned about the well-being of his family.
http://3.bp.blogspot.com/-f22sqdXrJPU/UguAWfxVA6I/AAAAAAAAY9s/7c72hZn5GnQ/s320/518d5846103f5_299379n.jpg
source of image: http://futurewarstories.blogspot.com/2013/08/fws-topics-powered-armor.html
"… Science fiction is a useful tool of cultural criticism in that it posits future worlds so as to reflect contemporary social concerns."
Masters' thesis in literature
http://scholarworks.uno.edu/cgi/viewcontent.cgi?article=2322&context=td 
https://www.youtube.com/watch?v=jYFcV004RfU
http://theessential.com.au/media/articles/123/starship-troopers-3.jpg prepared for insertion
"War is not violence and killing, pure and simple; war is controlled violence, for a purpose. The purpose of war is to support your government's decisions by force. The purpose is never to kill the enemy just to be killing him . . . but to make him do what you want him to do. Not killing . . . but controlled and purposeful violence. But it's not your business or mine to decide the purpose of the control. It's never a soldier's business to decide when or where or how–or why–he fights; that belongs to the statesmen and the generals. The statesmen decide why and how much; the generals take it from there and tell us where and when and how. We supply the violence; other people–"older and wiser heads," as they say–supply the control."
Robert Heinlein, Starship Troopers
http://3.bp.blogspot.com/–FPhwtNMff8/Uelh6wQsIGI/AAAAAAAAYRY/xnH5NDwux0U/s400/amplifierFrame.gif
source of image: http://futurewarstories.blogspot.com/2013/08/fws-topics-powered-armor.html
"LANCE CPL. STEVEN West steps into a remote enemy hideout clad in a 350-pound exoskeleton, sensors piercing the darkness and displaying digital info on his helmet visor, until a shock of static feedback knocks him to the dirty floor. A band of locals surround him with pipes and rebar. "The feedback stopped, leaving his ears ringing, and grainy video feed warped back into view as he was struck again. And again."
This scene isn't pulled from the latest Clancy-esque techno-thriller, but a short story written as part of a new Marine Corps exercise using science fiction to think about possible threats 15 to 30 years in the future.
"Water's a Fightin' Word" recounts what happens when a squad of Marines on a humanitarian mission in Africa gets surrounded during a global freshwater shortage. The author slips in glimpses of military technology in its infancy today, such as the exoskeleton, electromagnetic pulse weapons, and combat-ready robots, and combines it with likely geopolitical scenarios, such as conflict over water and other environmental resources.
Officers at the Marine Corps Warfighting Laboratory/Futures Directorate in Quantico, Va., came up with the idea last year to host a sci-fi contest to spur creativity, as well as get uniformed Marines to conceive of threats in a different way. A total of 84 entries were narrowed down to 18 finalists, who were paired with professional sci-fi writers—including "World War Z's" Max Brooks—during a workshop co-hosted by the Atlantic Council. After months of editing, the top three stories were collected in "Science Fiction Futures: Marine Corps Security Environment Forecast 2030-2045″ and published online [ http://www.mcwl.marines.mil/Portals/34/Documents/FuturesAssessment/Marine%20Corps%20Science%20Fiction%20Futures%202016_12_9.pdf?ver=2016-12-09-105855-733 ].
The stories share common themes of political chaos, a rising China, a less-powerful and more inward-looking United States, conflicts over environmental resources, and the growth of megacities in the developing world. For Marines, who are the first US boots on the ground in the toughest situations, the toughest challenges may stem from the latter.
"It will not be like Fallujah or Hue City," said Marine Lt. Col. Patrick Kirchner, citing intense block-by-block conflicts in Iraq 2004 and Vietnam 1968. "But more like Manhattan, and not on a weekend." Kirchner's comments came at a panel on the sci-fi Marine warfighting project at the Atlantic Council in Washington. "You can't pick out the enemy and you can't just shoot him. You've got to figure out how to clear a skyscraper. You can't just hang green t-shirts or chem-lites in the window and say it's clear. We have to find out how to figure out this kind of situations."
More:
https://www.wired.com/2017/01/better-way-marines-prepare-future-wars-sci-fi/ 
Music:  https://www.youtube.com/watch?v=onGWF8mz1Zw 
"Robert Heinlein's 'Starship Troopers' is the only novel on the required reading list at the Army War College and Annapolis for the study of small force tactics." 
"Small Unit Tactics" by Will Serwetman is available as a free download on the Internet.
On YouTube, you can find hours of assessment by major national think tanks on Russian military capabilities, hybrid warfare, urban warfare and the growth of mega-cities, and I probably only scratched that surface. 
YouTube is also resplendent with videos on squad tactics, urban warfare techniques, land navigation, and more.  Books and classes are available on community squad formation, how to conduct local "intel", etc.  In today's world, whether in the military or on the home front, we must consider the role and presence of women.
Preparing for war has become part of our culture. 
Somebody wants to bring combat upon you.
Are you ready for it?
Heinlein's Starship Troopers is a story about boot camp and military duty.
"COMBAT – that means life and death with people actively seeking to destroy you."  Learning how to survive combat  is a serious business involving "the teaching of serious skills in a dynamic, live-fire environment. It takes tough men [and women[ to have first acquired the skills in order to teach them and it takes tough men [and women] to maintain order, discipline and safety in an environment to teach those skills."
Note that I am not an expert in, nor have I ever experienced combat. 
http://breakingdefense.sites.breakingmedia.com/wp-content/uploads/sites/3/2016/10/Screen-Shot-2016-10-20-at-1.47.36-PM-1024×640.png
source of image:  http://breakingdefense.com/tag/marine-future/ 
"… Advanced sensors, air/land/sea vehicles that can stay on alert for extended periods of time, and immediate battle damage assessment have changed the rules of warfare — as well as what is considered acceptable collateral damage.

All these factors make it easier to control violence. But it's up to the politicians to tell the military what purpose the violence serves, and that hasn't gotten any easier. Sun Tzu himself warned about it, saying, "He will win who has military capacity and is not interfered with by the sovereign." However, Sun Tzu never had to deal with satellite communications, a 24-hour news cycle, or a pesky thing called democracy."
http://www.popularmechanics.com/military/weapons/a13103/starship-troopers-is-the-new-the-art-of-war/ 
[Ed.: But we don't have a democracy, and never did; we have what's left of a constitutional republic….]
Heinlein's tidy piece of science fiction offers lessons in civilian leadership.
8 Military-to-Civilian Career Transition Tips from Starship Troopers
Oct 21, 2015
Robert Heinlein's science fiction classic Starship Troopers, published in December 1959, is a permanent fixture on military reading lists among the Army, Navy, Marine Corps, and Air Force. Starship Troopers describes how Johnnie Rico starts as a private in the Mobile Infantry, an Earth-based military force that serves as a galactic and heavily armed raiding force. The Mobile Infantry was similar to a WWII Marine Raider force or the Army Rangers of WWII – high on firepower, shock tactics, and infantry force.  The essence of Starship Troopers was a fight for survival of the human race across the galaxy.  Humans were threatened by a race of intelligent, highly skilled, and ferocious spider-like creatures ("Bugs").  Standing in their way, the front line of Earth's defense forces, was the Mobile Infantry.  The Mobile Infantry could be considered as interstellar Marines, transported from plant to planet in huge starships and then "parachuted" from planetary orbit.  On the ground, the Mobile Infantry fought in incredible, 2,000 lb, powered, armored suits.
Starship Troopers showed us that, despite the technology, being in the Infantry was still the Infantry with constant hard work, impossible odds, and zero thanks.  The Mobile Infantry fought and trained as Infantry has always done: outnumbered, in the cold and dark, and against incredible odds to save the human race and each other.  Starship Troopers made its way into the modern military lexicon more than a decade ago, most notably during the U.S. involvement in Somalia, where local Somali militia were referenced as "Skinnies" in comparison to one of the antagonist militaries that the Earth forces fought against in the opening chapters of the book.
Robert Heinlein's Starship Troopers is a great refresher on some of the truly vital and critical skill sets that veterans bring to organizations in their post-military careers. If you are on the first day or your 10th year of your military transition, be sure to look down this list to contribute all you can.  There are 8 key insights that matter to how effective military veterans can be in business and their second careers.
1  The Entire Team Works On The Primary Mission.
The motto of the Mobile Infantry is, "Everybody drops and everybody fights." On numerous drops, all of Rico's unit went into combat.  Regular soldiers, but also cooks, administrative personnel, and even Chaplain's – everyone fought.  From an organizational standpoint, this was the sheer genius from the Mobile Infantry. Literally, 100% of the organization was dedicated to its primary purpose of combat. The concept of "everybody fights" was a simple and valuable reminder that the majority of your organization should be dedicated to its mission.
Relevance to Military-To-Civilian Career Transition.  When you come into a new company or organization, how much of your job should be dedicated to doing what your company does for its customers? If your primary job reinforce safety standards on oil rigs, then how much of your time do you actually spend enforcing and training on oil rig safety standards? In the military and in the corporate world, it can be very, very easy to be distracted by activities that take time and effort, but do not contribute to the primary purpose of your organization towards its customers.
1  Performance in The Present, Not In The Past, Is All Important
Every person in the mobile infantry, and society at large, was judged by what they did, how they performed, and how well they followed orders. This focus on performance as the sole benchmark of personal value weas refreshing. In Heinlein's sci-fi future, you could be rich or poor, from a great family or a questionable one, or have a PhD or a high school degree, and the only thing that mattered in the mobile infantry was well you performed.  In business, you can have a great corporate culture but if the product was bad, the customer service ineffective, or the company was not innovative, then you failed.  For both business and the military, performance was everything.
Relevance to Military-To-Civilian Career Transition.  Performance was a central driving criteria for veterans because no matter that you were a crewmember on a destroyer or an Apache Helicopter pilot, what mattered was how well you performed your current job. Don't worry about how your background compares to others in your organization. Worry about how well you perform and always seek to improve.
1  Difference And Diversity Is A Non-Issue In The Modern Workplace
Starship Troopers gets some diversity and gender issues right and others completely wrong.  Gender, physical disability, and race played significant roles throughout the book. Women were allowed to perform all combat roles, even direct ground combat. However, there were barely any women in the Mobile Infantry because they were better suited for more vital military roles, like being starship pilots, serving in military intelligence, or weapons development. Women, it turns out, were even more valuable than men in effective combat performance and outcomes. The most important, strategic positions were reserved for women.
What Heinlein missed was the concept that a woman would want a direct combat position?  If Heinlein had ever met Ronda Rousey, then the whole Mobile Infantry might have been women.  The vast majority of Rico's teachers were disabled combat veterans.  His Strategy instructor was the best military strategist who only happened to be blind. If anything, according to Rico, it made him a better strategist. Based on the concept of superior job performance that permeates the book, disability was an illogical reason to exclude anyone, because everyone's value was based on how they performed.
Relevance to Military-To-Civilian Career Transition.  For military veterans, we are used to dealing with gender, diversity, and other issues on a daily basis.  Military members, like the Mobile Infantry, are used to dealing with different races and religions.  Veterans will need to work with other non-veteran civilians to have their military service fully understood and how it contributes to their current workplace.  Veterans will need to strive at times to be open and understanding with others as they explain and demonstrate the value of their service for their employer's success.  The lesson from Starship Troopers was that when an organization unites under a compelling mission, truly focuses on performance, then difference does not apply.
5 More Lessons at Military One Click.  Content Provided Courtesy of Military One Click: http://militaryoneclick.com/8-military-to-civilian-career-lessons/ 
http://www.military.com/veteran-jobs/career-advice/military-transition/famous-veteran-robert-a-heinlein.html 
"… A scientifically verifiable theory of morals must be rooted in the individual's instinct to survive–and nowhere else!–and must correctly describe the hierarchy of survival, note the motivations at each level, and resolve all conflicts. We have such a theory now; we can solve any moral problem, on any level. Self-interest, love of family, duty to country, responsibility toward the human race . . . . The basis of all morality is duty, a concept with the same relation to group that self-interest has to individual."
Robert Heinlein, Starship Troopers
If it is true, as Heinlein says, that "The noblest fate that a man can endure is to place his own mortal body between his loved home and the war's desolation", then a lot of us have a lot of thinking and work to do, even those of us who are physically impaired, elderly, or otherwise not inclined to sign up for some physically-punishing romp up and down some hills in the Appalachians, the Rockies, or even the flatlands.
With or without training, with or without armaments, in forthcoming wars, civil or otherwise, you will have to be mindful, self-aware, alert, prepared, and trained in the use and maintenance of your arms, your legs, your heart, your lungs, and your brain.
"It is a basic function of self defense and your job as an adult member of your family/ community. It is not a responsibility to be handed off the the police, or the State. When you do, it is all too easy to take that responsibility and capability away from you entirely, by disarming you and making you incapable of self defense. Whether by physically disarming you, or brainwashing your mind, you are gelded."
https://www.maxvelocitytactical.com/2015/04/starship-troopers-thoughts-1/ 
Isn't that in parallel with one of my most favored quotes from Tim Gallwey in Summon The Magic ?
One's true capacity for moving,
or being moved, can be achieved
only when one's commitment to others
is in fact connected to and derived from
his primary commitment to himself. 
When we find this kind of alignment of purpose,
there is a harmony of motivation
that can provide the fuel and clarity
to overcome great obstacles
in the pursuit of great challenge.
from The Inner Game of Work, by W. Timothy Gallwey
If your nation unleashes an environment — whether or not you are its target or merely it witness — of engineered super-soldiers, the use of drones, EMP and other directed-energy weapons, artificial intelligence and cyberwar, robotic military vehicles, drones and neuroweapons, are you ready?
Are you left of bang ?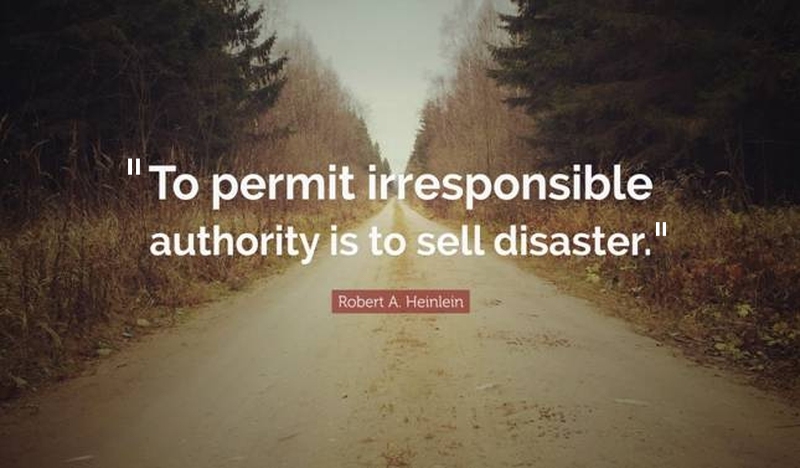 http://i.enkivillage.com/v58pv9wJzC9uKU5EzfoYjzAef04=/800×0//images/2016/08/3f229385e389c52ece0423d8cb7566ea.jpg
"… To permit irresponsible authority is to sow disaster; to hold a man responsible for anything he does not control is to behave with blind idiocy…."
Resources:
https://www.goodreads.com/work/quotes/2534973-starship-troopers 
https://en.wikiquote.org/wiki/Starship_Troopers 
https://www.part-time-commander.com/17-quotes-and-leadership-lessons-from-the-book-starship-troopers/ 
https://www.abebooks.com/products/isbn/9780425071588 
https://en.wikipedia.org/wiki/Starship_Troopers 
http://en.metapedia.org/wiki/Robert_Heinlein 
http://www.heinleinsociety.org 
http://www.thesullenbell.com/2016/05/26/reverse-engineering-humanity/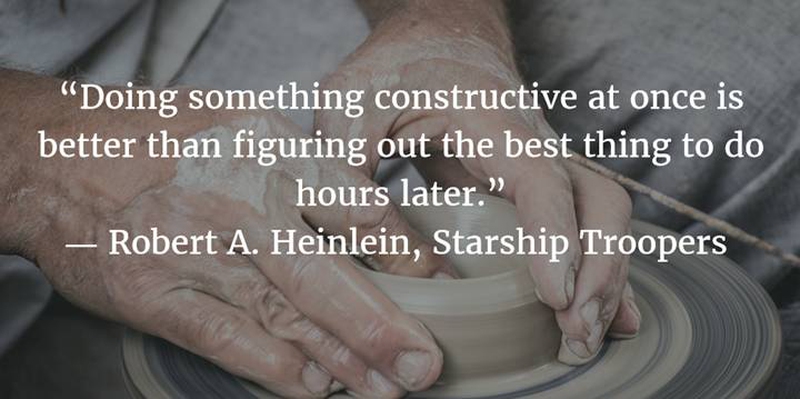 http://i.enkivillage.com/7IC2bS4x_rz7EH9CfwjP18SlVCw=/800×0//images/2016/08/51a5ecb8b057df1f2d7d77e24498483b.jpg